Who likes coffee?
Let me rephrase that.
Who likes flavored creamers in their coffee? I sure do!
While I absolutely love my flavored creamers, I hate the fat and caloric content not to mention the price. Don't you? Four weeks ago I embarked on a healthier eating plan and I am seeing as well as feeling the results. But I want to enjoy my flavored creamers again sans the bad stuff like sugar, preservatives and fat.
So I found this great homemade creamer recipe at
Farmers Wife Rambles
which is so simple I yelled out "DOH" and did a head slap. Combine a can of sweetened condensed milk with milk and add your favorite flavorings. But I wanted a healthier alternative. Enter this recipe for homemade sweetened condensed milk at
Creative Homemaking
. But...I took this one step further and made it relatively sugar-free and fat free. Without further ado, I give you:
1 tsp. cornstarch
1 T. cold water
1 1/4 c. dry nonfat milk powder
1/2 c. water
1/2 c. Splenda
1 tsp. vanilla
1/2 c. skim milk
In a small dish, combine cornstarch with the cold water. Set aside.
In a microwaveable bowl, stir together milk powder and water. Cover and heat in the microwave approximately 30-45 seconds until hot.
Stir in the cornstarch mixture and heat an additional 10-15 seconds until thick.
Stir in the Splenda and vanilla, mixing well. Refrigerate at least 2 hours before using.
When chilled, stir in 1/2 c. skim milk and mix thoroughly. Add any additional flavorings as desired. Pour into a container and keep refrigerated.
Nutritional information: 1 T. contains 12 calories, 0 gram fat, 3 grams carbohydrates, 1.5 grams sugar, 1 gram protein
This recipe is so simple, quick and easy to make.
PLUS
you can add in any of your favorite ingredients to create your very own flavored coffee creamer. Can you imagine the possibilities?
I did find that adding the flavorings to the creamer in a blender results in a smoother consistency. Or heat the creamer in a saucepan on low heat, add the flavorings and stir until dissolved.
Flavor suggestions:
Cinnamon Chocolate Creamer (a la Mexican hot chocolate)
Combine 1 T. cocoa powder and 1 tsp. cinnamon to the base creamer
Caramel Creamer
Add 1 T. Torani caramel syrup
Peppermint Mocha Creamer (can you say liquid Thin Mint?)
Add 1 T. cocoa powder and 1/4 T. mint extract
Hazelnut Creamer
Add 1-2 tsp. hazelnut extract
Chocolate Almond
Add 1 T. cocoa powder and 1/2 T. almond extract
Chocolate Caramel Creamer (like my favorite Milky Way candy bar)
Add 1 T. cocoa powder and 1 T. Torani caramel syrup (or 1/2 tsp. caramel extract)
Pumpkin Spice
Add 1/2 tsp. pumpkin pie spice
Now if you'll excuse me, I have a sudden craving for a hot cup of freshly brewed coffee with Peppermint Mocha Creamer.
What's your favorite creamer flavor?
What an honor! Featured at these cool blog hops:
Project Inspired Linky Party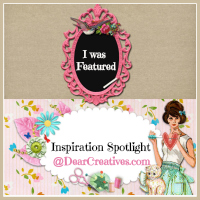 Sharing at these great blog parties: The Mommy Club, Wow Us Wednesday, Wildcraft Wednesday, Thriving On Thursdays, Showing Some Love Hump Day, Show & Tell, Your Whims Wednesday, Thursdays Are Your Days, Moonlight & Mason Jars, The Project Stash, The Project Stash, Live Laugh Linky, All Things Thursday, Artsy Corner Thursday, Domestic Superhero, Thrifty Thursday, The Homeacre Hop, Friendly Friday, Krafty Inspiration Thursday, Thrifty Things Friday, The Weekly Creative, Wildly Original Link Party, The Weekend re-Treat, Weekend Wonders, Shine On Friday, Blog Strut Peacock Style, TGIF Link Party, Freedom Fridays, Inspiration Spotlight, Pity Party, Wordless Wednesday, The Friday Follow Along, Fridays Five Features, Link Party Palooza, What I Am Eating, Saturday Show Tell, Strut Your Stuff Saturday, I Love My PostShow & Tell Saturday, Finding The Pretty & Delicious, Get Schooled Saturday, Bouquet of Talent, DIY Sunday Showcase, Super Handmade Sunday, That DIY Party, Its Party Time, Share The Love, Inspiration Monday, Pin It Monday, Make The Scene Monday, Marvelous Mondays, Monday Funday, Sunday Showcase Party, Market Yourself Monday, Inspire Me Monday, Frugal Crafty Home, Mostly Homemade Mondays, Manic Monday, Give Me The Goods Monday, Mad Skills Party, Project Inspired Linky Party, Share It Link Party, All My Bloggy Friends, Show Me What Ya Got, Memories By The Mile, Pincentive Blog Hop, Inspiration Board Creative Party, The Gathering Spot, Wow Me Wednesday, Works For Me Wednesday, Wonderful Wednesday, Cast Party Wednesday, Mommy Club Wednesday, Rock & Share, My Whims Wednesday, Wildly Original Link Party